 Marzoli exhibits at ITMA: Hall 1 – Booth D109
 FTM320 Roving Frame machine: Italian design that pushes the limit of performance
 Textile Engineering: Four distinct and complementary technology areas: Spinning Technology, Digital Textiles, Nonwoven Solutions and Circular Technologies
Brescia, 7 June 2023 – Marzoli – a Camozzi Group company and leader in the supply of complete spinning lines, components and digitalised solutions that optimise the performance in the spinning process, will exhibit at ITMA, (Hall 1 – Booth D109) in Milan, from 8 to 14 of June 2023. The company will be showcasing a range of new solutions at the event, which are designed to deliver higher levels of performance and are aligned with the standards of the Camozzi Group, whose approach and values the company shares.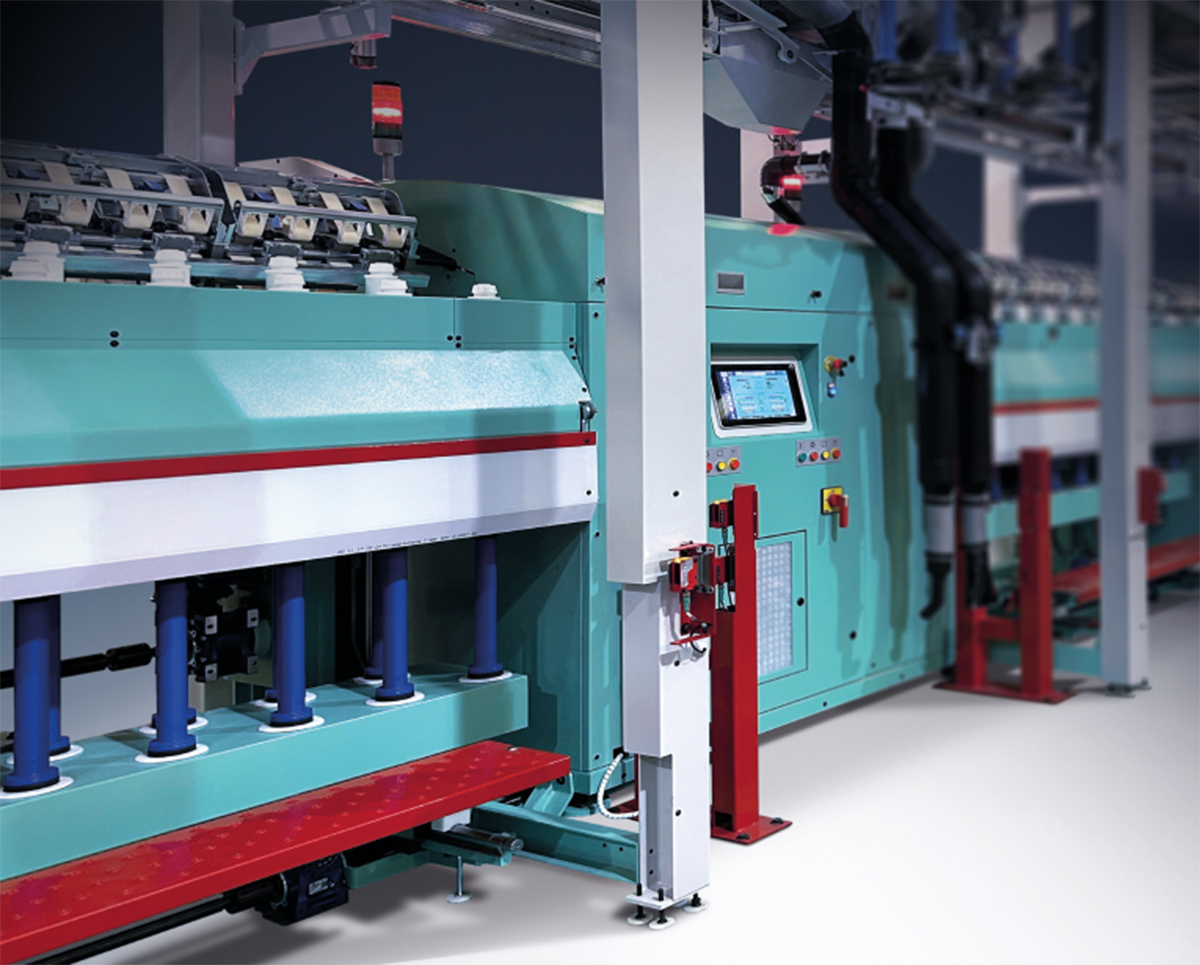 The concept of "Textile Engineering" – a key part of the Marzoli identity – encapsulates our goal to produce innovative textiles solutions. We also work closely with our customers, supporting them at every stage in the acquisition and operation cycle: from preliminary studies to plant construction, line start-up, production optimisation, plant management and digitalisation. It is this combination that marks out Marzoli as a unique global partner in the creation of manufacturing solutions and underscores our mission to shape the future of the textile industry.
At ITMA, the focus will be on the new Roving Frame FTM320: The longest machine. The latest and greatest.
The innovative roving frame with a central headstock and independent double side modules works simultaneously, to allow spinners to increase efficiency by up to 5%. The CMX – our state-of-the-art 10 combing heads comber – and the MDS2 ring frame with Active Flute energy consumption reduction system, comprise the spinning solutions
customers will be able to experience first-hand at Marzoli's booth.
The long-term vision and innovative digital journey that Marzoli and Camozzi Group designed several years ago, have made it possible to develop the first A.I. enabled** platform dedicated to the textile industry. This, combined with solutions for remotemaintenance, advanced software for the integration of management tools and apps for the
analysis of cotton waste, allow spinners to benefit from a significant increase in production (up to 5.5%) and efficiency (up to 8%), while at the same time reducing maintenance and failure costs by up to 30%.
Cristian Locatelli, General Manager of Marzoli, stated: "ITMA is a strategical event for our company and for Camozzi Group: it allows us to present our innovative technologies and, moreover, to share our vision on the future trends of the textile market. Thanks to our deep experience in the digitalization of this industry, today Marzoli can be considered an important player for sector's development and this why we are so thrilled to show our concrete contribution to all the industry professionals that will visit our stand."
At ITMA an area of the booth will be dedicated to nonwoven solutions. Visitors will have the opportunity to find out about the C702NW card and the web condenser, a special unit able to increase the standard web weight up to 60 gsm, satisfying an emerging trend in nonwoven production.
Since 2012, Marzoli has focused research on continuous innovation in the mechanical regeneration of textile fibres for our customers. This international event will be the first opportunity to highlight the developments made in this pressing and fundamental change in the textile industry.
During the exhibition, visitors will also have the opportunity to visit the Technology Accelerator Centre, located at Marzoli's headquarters in Palazzolo sull'Oglio.
ABOUT MARZOLI
Established in 1851 and part of the Textile Division of Camozzi Group since 1999, Marzoli is one of the major worldwide brands in the textile sector and a unique European manufacturer of complete machine lines for the opening, preparation and spinning of short-staple fibre. From bale openers to ring spinning frames, Marzoli offers advanced technology for completely automated spinning mills. Through its global sales and service network, its expertise with each type of fibre and its application, as well as its experience of the entire manufacturing process,
Marzoli represents a skilled and reliable partner. Synergies with the digital capabilities of the Camozzi Group have enabled the development of software solutions that enable informed and optimized management of the spinning process.
ABOUT CAMOZZI GROUP
Established in 1964, the Camozzi Group is a multinational Italian company and market leader in the production of components and innovative systems for industrial automation. It is also a leader in the integrated Industry Internet of Things (IIoT 4.0) systems sector. A key driver for the Group is a commitment to complete sustainability. The Group has expanded its activities into various other sectors: from specialised large machine tools to advanced engineering for textile machines and raw materials processing. It has a particular focus on innovative materials involved in additive manufacturing (including composites, titanium, aluminium). The Group has 38 subsidiaries in 78 countries, 3,023 employees, five operating divisions and 26 production sites.
Author Profile