Maharashtra: A land of diversity and colourful cultures! The distinct mix of various cultures has shaped the people of Maharashtra into land of prosperity and spirituality. Despite of modernization, people of Maharashtra maintain their culture by following traditional practices. Maharashtra was initially the land of the great warriors who have left behind grandeur, high spirits & exuberance. All these features add to the rich culture and heritage to the Marathas.
Maharashtra has a wide range of textiles of varied designs & manufactured by different techniques. The specialty in the weave of the textiles in each region is developed based on location, climate and cultural influences. Suited Fabrics are used to the climate of Maharashtra. Primarily used fabrics are cotton and silk.
Costume of Maharashtra
The traditional attire of men in Maharashtra is the Dhotar and Sadra, a kurta with pockets on both sides. A waistcoat known as Bandi is also worn at times inside the shirt. Most of the elderly men wear Topi and Pheta, a freshly folded turban made of cotton or silk fabric. Pitambar which is pure silk dhoti with zari border worn during puja or any ritual.
The "Lugade" or Nauvari sadi (nine yard sari) is the traditional attire of the women of Maharashtra which is worn along with a short-sleeved Choli or Polka. Teenager girls wear Parkar & Polka and boys wear half pant & shirt.
Dhoti for men & Nauvari for women is with Kashti style, where two ends of dhoti, outer one which is pleated in front & another is pleated and taken at back tuck through the legs called as Kashta or Kashti.
Men's Costume:
Lower Garment
Dhotar: worn by everyone except farmers as they wear same style dhoti but till knee and shorter ones are called as Pancha.
Draping of Dhotar: It is normally white or cream colour with length 4.5 meters 5/5 yards and width 54" with a narrow coloured border. It can be tied at waist on right side with knot keeping right end longer then the left, which is pleated and tucked in front (called niri) and at the edge is pleated with small pleats and taken behind through two leap & tucked at back called 'Kashta'. Niri in front and kashta at back give freedom of walking.
Pitambar: it's Pure Silk dhoti with Zari border.
Pyjama: Known as Lenga or Vijar. It is made from white cotton fabric and tied with either string or belt.
Upper Garment
Bandi: It's an inner garment which is worn inside the shirt or sadra.
Sadra: A kurta with long or short sleeves and has pockets on both sides. Kurta with side slits is also called as Pairan.
Jakit: While going out, they wear full sleeves knee length kurta and on top of this they wear Jacket which is sleeveless with Chinese collar.
Angarakha: People with higher dignity wear a long coat known as Angarakha.
Uparna: A shoulder piece for men which is pleated like a saree pallu & kept on the left shoulder. Mostly worn during puja over pitambar.
Koli Men: They have traditional attire which is Surka, a square rumal worn in a triangular manner as a lower garment. Ganji, T-shaped shirt as upper garment and scarf folded in triangular manner to cover head. This costume is helpful for their fishing convenience.
Women's costume:
Lower Garment-
Nauvari sadi: A 9 yard saree of 50-52" width. According to the draping style of pleats, the caste can be recognized.
Draping of the saree: They start wearing the saree from the pallu called 'Padar'. The pallu is pleated which covers the widthwise and kept on the left shoulder. Rest of the saree is then draped and made into pleats and tucked securely for Kashti.
The Brahmin ladies divide pleats into unequal parts, less on the left side and more on the right. Then the division fold is pleated with the border on the right side neatly placed out and tucked behind known as 'Kashti'. The last pleat on the right side with bottom end is taken and secured on the left hand side. This is called 'Ocha'. This can be used as a pouch to keep valuables. The shoulder is covered with the Pallu from behind. Pleats are called Nirya. The front side of the waist line tied fastened with at waist in front are called 'kela'.
The Non Brahmins ladies wear this sadi in different way. They divide the pleats equally and 'Kashti' is drawn behind and tucked with the border placed neatly. The front pleats are kept dangling at the bottom.
Folk (Lavani) Style: In this type pallu is very long. All the pleats are drawn behind. Here both borders are seen in Kashta. The saree is tightened at the foot with gathers and pallu is taken on the head.
The farmer ladies use only 7½ – 8 yards long saree so when kashti the saree comes upto the knee.
Koli women traditionally wear thin cotton nauvari saree till knee length with elbow length blouse. And white Odhani with Printed border is draped for the upper part.
Upper Garment-
Women wear a blouse called 'choli' is a short blouse with a knot in front. They also wear 'zamper' made up of Khan material with elbow length sleeves and the two flaps to cover the breast. The neck is low cut V shape. The length of the blouse is up to the waist.
'Nau Tukdyachi Choli' is one of the varieties, which fits better than any other choli. All nine pieces joined in order, no button, no placket, only knotted and is used as a inner garment.
Shela is a decorative cotton silk shawl, Banaras silk, Paithani or Himroo.
Girls wear parkar which is a long skirt from waist till ankle, tied with string at waist. Once the girls attain puberty they wear half saree.
Accessories:
Men: Head gear:-
Jiretop- It's a pre folded headgear worn by Shivaji Maharaj. Conical in shape, tassels with beads at back & brooch in the centre.
Pagota- A small pre folded turban used by working class.
Puneri pagdi- Red in colour, Pre folded turban worn by Brahmins, re supposed to known as educated people and therefore they wear pagdi, it was a symbol of honour.
Kolhapuri Pheta- It's a freshly folded turban twisted around the head.
Topi- White cotton topi worn on a daily basis by some people as well as on special occasions.
Footwear:-
Kolhapuri chappal called as jode, Peshwai Jogle & Puneri jode are the different types of footwear for men.
Ornaments:-
Bigbali- worn at the top of ear with dangling beads.
Women: Ornaments:-
Hand- Bangles worn in sequence.
Patali- Flat bangle with hexagonal surface.
Goth- A circular hollow bangle worn after patali.
Tode- Bangle with Pearls on top.
Glass bangles- Green glass bangles worn by married women.
Arm ornaments- Armlet known as Bajuband or vaki with two types of designs
Nagachi vaki- A snake design made in gold.
Chatai chi vaki- A mat like design with dangling pearls and pink stone in the centre.
Finger- Angathi, a gold ring.
Neck: Gold and Pearl ornaments-
Chinchpeti- A rectangular small box threaded with golden threads & studded with pearls, snugging around the neck like a choker.
Thushi- Made of Gold beads securely stitched on a red fabric strip.
Tanmani- 2-3 strings of pearls with the pendant of mix small & big stones and dangling pearls at the bottom. It can be worn as a choker or loose.
Jondhali pote- Plain gold beads of grain size.
Laxmi har- A coin necklace with engraved motif of Goddess Laxmi.
Mangalsutra- Black and gold beaded ornament worn by married women.
Ear-
Kudi- seven pearls earing worn by married ladies
bugdi- worn on top of the ear with dangling pearls
dul- dangling red pearls worn by girls
Nose-
Nath- worn on left nostril, studded with white pearls and colourful stones with two beads dangling at the bottom.
Chamki- nose ring with white, green, red stone.
Ankle- Painjan, Silver payal with jingling bells worn by girls
Toes- Jodvi, a silver toe ring worn by married women.
Textiles of Maharashtra
These include paithani sarees from paithan and Aurangabad, himroo and mashru textiles from Aurangabad, brocades form pune and nasik and handblock printed fabrics form Vidarbha region.
Paithani saree
Paithani has been recorded since Buddhist Literature since 3rd century B.C. Due to its proximity to the Ajanta caves, the Kamal or Lotus motif "Ajanta motif" has been consistently seen in the saree. Another common motif is the Hans motif (Swan) and coin motif.
The Peshwas supported the weavers of the paithani and it was called the "Golden Age of Paithani".
Manufactured in Paithan village, now it is also made in Yeola near Nashik.
Fibers used are- Pure Silk & Real zari ( 1 kg of Gold mixed with 1 tola of copper)
Colours used are- Pitamber (yellow), Laal (red), Popti (Parrot Green), Morpankhi (Peacock feather colours), Anjeer (Green, Rust), Samprus (Red, Green), Aboli (Orange, Pink), Vangi (purple), Motiya (Pinkish white)
Manufacturing technique- Tapestry weaving technique is used for paithani saree woven in gold and designs are made with the help of silk yarns, unwrapped on several shuttles. Original Paithani takes atleast 1 year whereas semi paithani takes 2 weeks.
Motifs- Ajanta lotus motif, Akruti motif, Kairi motif, Bangdi mor
Pallu motifs- Among the various motifs that evolved were the bangdi mor (peacock within a bangle), Tota Maina (parrot mynah), Anar (Pomegranate).
Borders- Common border is Narali (coconut) border, diamond shaped in criss cross manner.
Style of the saree:
Pallu- ½ yard to 1 yard with extension on two corners.
Border- 3 or 9 inches wider.
Pallu is woven with zari and silk threads. Complete border is given an outline of temple or mango motif called Mukri.
Narayan Peth
History- Traditionally made of vegetable dyes, unique process where eight sarees are made at a time on loom i.e 56 yards of silk are mounted on the loom at a single time. got Geographical Indicator (GI) in 2012.
Place- Traditionally between Maharashtra and Andhra Pradesh. Also, area around Telangana.
Fibres used are- Silk, cotton or Garbha Reshmi (silk in warp & cotton in weft), Garbha Suti (cotton in warp & silk in weft).
Colours used are- Navy blue/ Turkish blue with Pink, green with pink/ red, Black with pink or red. Golden yellow with red, orange with brown, peacock green with blue, Greean and Purple. Pallu and border will always have same colour.
Manufacturing Technique- Cotton saree takes one day and Silk saree takes 4-5 days to complete.
Style- 4" wide border (kath), Piecing method of Padar i.e warp and weft always of silk.
Body- Plain, checks or very rarely vertical stripes.
Pallu- Known as Tope Padar. It has 3 zari stripes between silk padar. Each zari strip ends with 3 or 5 pointed edges
Border- 4" wider border
Motifs used- Different in each row consisting small squares with flower motif called Rudraphul or mango motif called Kairi. On top of the saree border- temple or mango motifs are placed.
Khan
Place- Manufactured in Sholapur district.
Fibers used are- Cotton silk or Art silk
Colours used are- The border usually has a background maroon colour, sometimes black background of the body and design maybe blue, green, grey, golden yellow, yellow, magenta etc. used in contrast combination.
Weaving technique- Designs are made by Dobby loom and extra warp yarn. It's only fabric for saree blouse; hence it is 27 or 31" width.
Design- On the border two lines of designs are woven; either floral or narali border etc. On the body, small designs are woven to cover the whole surface with extra warp yarns.
Motifs used are- floral, geometrical, surajmukhi, tilpatta, chanabutta, etc.
Mashru
Mashru is a satin weave fabric in which warp is silk yarns and weft is cotton yarns. This fabric is particularly worn by Muslims as they are forbidden to wear pure silk next to skin.
Place- Manufactured around Aurangabad
Fibers used are- Cotton and Silk
Colours used are- the stripes are always of bright colours
Weaving technique- It is made of simple Handloom. The warp yarns are plain, smooth yarns. The weft is made of club yarns to give an irregular texture and uneven pattern to the fabric.
Himroo
It is much finer in texture. These fabrics are used as bridal robes, veils and in saris too. It is also more expensive than Mashru.
Place- Manufactured around Aurangabad
History- Art originated in Persia and is associated with the time of Mohd. Tughlaq who ruled in the 14th century. The word Himroo originated from Persian word 'hun-ruh' which means "similar". Himroo is a replication of 'kum-khwab' which was woven with pure golden and silver threads in olden days and was meant for the royal families.
Fibers used are- Cotton and art silk (Viscose). Fibers is usually of cotton and black in colour. And weaving of design is with Viscose fibers, so that it shines and resembles silk.
Colours used are- the design is always of bright colours on black background.
Weaving technique- designs are made by Dobby loom and extra warp yarns.
Design- Common floral designs, fruits designs (pineapple, pomegranate)
Application- used for making shawls.
Different Printing Technique:
Hand block printing is extensively done in the Vidarbha area of Maharashtra. Bavasars (as the community is known) mainly use natural colors.
The practitioners of this craft in Maharashtra are mainly migrants from other parts of India. The painting is done with delicately carved wooden and brass blocks. The cloth on which hand-printing is done is either hand-woven silk or mill-made chiffon cloth. The results are multi-colour designs in traditional patterns. The 'Tree of Life' motif is very widely used. Metal blocks as well as wooden blocks are used by Maharashtrian craftsmen to deck up the block print fabrics.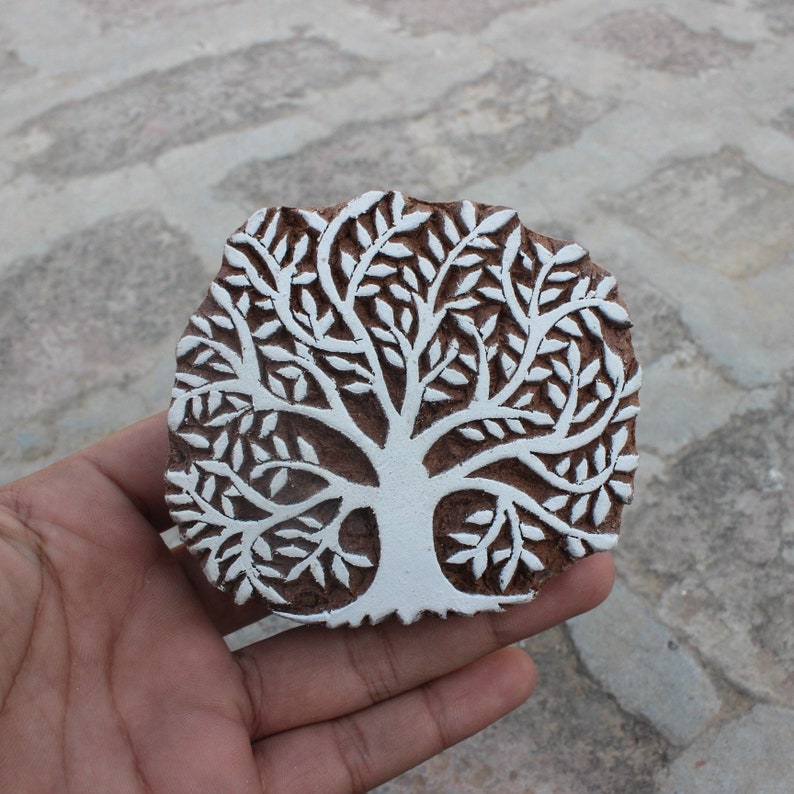 The artisans engaged in this craft are called 'bavasars' in this state. Quilts, floor coverings and bed covers are the various products which utilize block print, wherein the dominant colours are red and black.
Utilitarian items and those meant for decorative purposes employ the craft of block printing. Various kinds of motifs are crafted by the block print artisans of this part of India.
Art & Craft Of Maharashtra
Maharashtra is a state that boasts of rich cultural heritage and legacy. Infact, its culture represents an amalgamation of different communities, religions, castes, and the like. Apart from that, there is another thing that reflects the vivacious spirit of the state and that is nothing but, its exquisite arts and crafts. Be it the cave paintings of Ajanta and Ellora or the beautiful jewelry of Kolhapur, the handicrafts of Maharashtra truly reflect the rich past of the state.
Bidriware
Bidriware or the Birdri craft is one of the most popular handicrafts of Maharashtra. It has been in existence since ages and found patrons amongst the Mughal rulers. Initially used for embellishing royal swords and other weapons, the craft later spread to domestic items like cigars and cigarette boxes. The typical items adorned with bidriware are plates, bowls, vases, ashtrays, trinket boxes, hukka bases, jewelry, glass and studded bangles, etc.
Warli paintings
Maharashtra is home to a large number of tribes, most of which are found residing around the Deccan region. Apart from their distinct culture and lifestyle, the tribal people of the state are also known for making a number of handicrafts. Amongst the popular folk crafts of the tribes are the Warli paintings.
The paintings of warli tribes of Mumbai. It is even compared to the famous paintings of Madhubani, Bihar. Warli paintings are the tribal wall paintings of the warli tribes of Maharashtra. Warlis are the largest tribes of Maharashtra live in northern outskirts of Mumbai. Womenfolks mainly do the paintings on the mud walls of the houses. This art is done in a very traditional way . First the coating of cow dung is done on the walls and to brighten up the shade mud is polished over it as a primer coating. Rice powder and straw are the main mediums used for paintings which is then mixed in a traditional metal vase and with the thin sticks prepared out of Beharu tree are used as a source of painting. The paintings have compositions of human figures as well as animals , insects and birds. Interesting to know is that the lady whose husband is alive can only draw the main elements of the composition. The main element is the mother goddesses Palghata. Today this art is not only limited to walls but also on papers and is available for purchasing.
Bhils
Bhils have rich and unique culture. The Bhil Tribe are indigenous, being the Second largest Tribal Community in India. Art is Integral to the Bhil Community. The rich texture of their paintings generally depict nature and Adivasi Style that is their legacy. Bhil artists are just starting to be internationally recognized. They paint the simple human joys of birth and other ceremonial occasions like harvests that are often forgotten in our modern society. The art of the Bhils along with that of other tribal groups reminds us what the simple pleasures in life are. Traditionally, the art of the Bhil folk would adorn the clay walls of their village homes. Beautiful images would be painted with neem sticks and other twigs, and natural dyes would be used. Turmeric, flour, vegetables, leaves and oil were used to derive brilliant colours to make fascinating frescoes on floors and walls, in a language created by the Bhils, to convey their experiences.
The Bhilala sub-division is known for its Pithora painting. Bhil painting is characterised by the use of multi-coloured dots as in-filling. Bhuri Bai was the first Bhil artist to paint using readymade colours and paper. Other known Bhil artists include Lado Bai, Sher Singh, Ram Singh and Dubu Bariya.
Ajanta Paintings of Maharashtra
The Ajanta caves were lost in time and it was not until the 19th century these caves were unearthed from the thick undergrowth by a company of British soldiers.
These caves predominantly represent Buddhist thoughts which have been frozen on walls of these caves since 2nd century B.C to 7th century A.D. There are 30 Chaityas and Viharas which have paintings illustrating the life and incarnations of Buddha. Five caves (9, 10, 19, 26 and 29) are Chaitya-Grihas and the rest are Sangharamas or Viharas (monasteries). The caves 1, 2, 16 and 17 are ranked high among the greatest artistic works of the contemporary world. Each one of these paintings reflect the finesse of the craftsmen and leave visitors spellbound. The Ajanta caves were meant to provide seclusion to the Buddhist monks who took solace of the fact that they were in serene surroundings in midst of numerous images of Buddha, Nymphs and Princesses. The female figures in the paintings of Ajanta display the true mastery of the artists who have used a magnificent array of colours, hairstyles, poses and costumes.
Chitaris/Folk Painting of Maharashtra
Chitaris is the Marathi word for a painter. A large number of chitaris settled in Nagpur, drawn there by the liberal patronage of the rulers of the Bhonsale dynasty who celebrated Hindu customs and traditions with great pomp and reverence. These chitaris made their homes in the Mahal areas of Nagpur and even today their descendants are found to be living there in a lane known as Chitari Oli.
The chitaris' work consists of making objects required during Hindu festivals. The rituals connected with them often require readymade artifacts in wood, clay, and paper. Ganpati has a special significance and the chitaris produce clay images for installation during the Ganpati festival. Over the years changing tastes have lead to a decline in the demand for their work. Today there are only a few families practising in Nagpur.
Sawantwadi toys
Sawantwadi is the name of a taluka in the Sindhudurg district of Maharashtra. The taluka is mainly known for being associated with the craft of lacquer ware, popularly known as the Sawantwadi craft. They mainly produce wooden toys with lacquer applied on it known as Sawantwadi toys. The craft was introduced in the Sawantwadi somewhere around the end of the 17th century.
Kolhapuri Chappal
Kolhapur is one of the few cities in Maharashtra that are renowned for being home to rich arts and crafts. Amongst its most popular crafts are its beautiful jewelry and extremely comfortable chappals (slippers). The chappals and sandals produced in the city are handmade.

References:
https://www.sahapedia.org/introduction-the-handlooms-of-maharashtra
https://www.indianmirror.com/culture/states-culture/maharashtra.html
https://maharashtratourism.net/art-craft/index.html
https://www.bharatonline.com/maharashtra/arts-crafts/index.html
https://www.artisera.com/blogs/expressions/bhil-art-how-a-tribe-uses-dots-to-make-their-story-come-alive
https://en.wikipedia.org/wiki/Bhil_people
https://www.craftandartisans.com/chitaris-folk-painting-of-maharashtra.html
https://www.craftandartisans.com/ajanta-paintings-of-maharashtra.html
referred from SVT college notes.