Synthetic Vegan Leathers
Polyurethane/Pleather
Polyurethane leather, also known as pleather or Pu Leather, is an artificial leather made of thermoplastic polymer used for making furniture or shoes. 100% PU leather is completely artificial and is considered vegan. There are some types of PU leather called bicast leather that have actual leather but has a polyurethane coating on top. This type of PU leather takes the fibrous part of cowhide that are leftover from making genuine leather and put a layer of polyurethane on top of it.
PU leather also goes by a few names. Whether you are looking for artificial leather or looking to avoid it, it is best to know the many names that make up artificial leather. When looking at tags, artificial leather can be called:
PU Leather
Bicast Leather
Split Leather
Bonded Leather
Reconstituted Leather
Corrected Grain Leather
Pros:
PU Leather costs less than genuine leather because it is easier to manufacture.
PU doesn't absorb water which makes it easy to clean.
100% PU leather is vegan.
PU leather can be made into a variety of colors and styles.
Unlike leather, PU leather doesn't dry out over time.
Cons:
Polyurethane is made from non-renewable fossil fuels, making it unsustainable.
It is un-biodegradable.
Can look fake and synthetic.
Isn't breathable like genuine leather.
Can smell of chemicals or plastic.
Easily wears over time and can crack, which means it doesn't last as long as real leather.
Can puncture or tear easily unlike genuine leather.
PU leatherdoesn't develop the same luster or patina as real leather over time.
Not all PU leathers are vegan because some contain leftover genuine leather.
Even though it uses fewer resources to make, plastics don't decompose and aren't the eco-friendliest.
Polyvinyl Chloride Leather (PVC)
Polyvinyl chloride, better known as PVC or vinyl, is an extremely versatile plastic that has an exhaustive list of applications. Flooring, car parts, pipes, plastic furniture, you name it. When it comes to faux-leather, PVC is made in the same way as polyurethane. A coating of PVC is bonded to a base layer of fabric, and then textured. The resulting material is very similar to polyurethane leather in terms of aesthetic and composition.
Pros: 
PVC Leather costs less Accessible
PVC leather doesn't absorb water which makes it easy to clean.
Pvc leather can be made into a variety of colors and styles.
Cons:
Polyvinyl Chloride is made from non-renewable fossil fuels, making it unsustainable
PVC Leather typically, looks shiny and cheap
It is Un-biodegradable
Lack of traditional leather patina
Poor longevity
Recycled Plastic/Rubber Trade Leather
Many types of waste plastic and rubber can be treated and processed to form faux-leather materials, such as old car tires and plastic bottles.
Pros: 
Environmentally friendly
Sustainable
Sturdy
Cons:
Lack of application to everyday products
Not readily available
Limited color potential
Lack of traditional leather patina
Plant-based Faux Leathers
Apple Leather
The food waste produced by juice and cider operations has proven to be an unlikely resource for a new breed of sustainable faux leathers. Copenhagen-based company, The Apple Girl, have made a name for themselves by turning apples into leather. Pulp from the apple residue is treated, rolled out into strips, and heated resulting in a flexible, hardy material that is 100% biodegradable. Each meter of apple leather requires only 1 litter of water during production, which is a fraction of the water required to produce bovine leather. Philadelphia-based company, Veggani, also use 'apple peel leather' to make a range of accessories. This material is derived from apple peels which are dried, powderized, and mixed with polyurethane before being processed into a faux leather.
Pros:
Less polyurethane, with The Apple Girl's variant 100% apples
Utilizes waste product that would otherwise be discarded, reducing consumption
Highly textured
Cons:
Yet to be tested for true longevity
Not widely produced or applied
Only one producer of 100% apple leather, The Apple Girl, with other apple leathers requiring polyurethane
Cannot be produced with a smooth texture
Pineapple Leather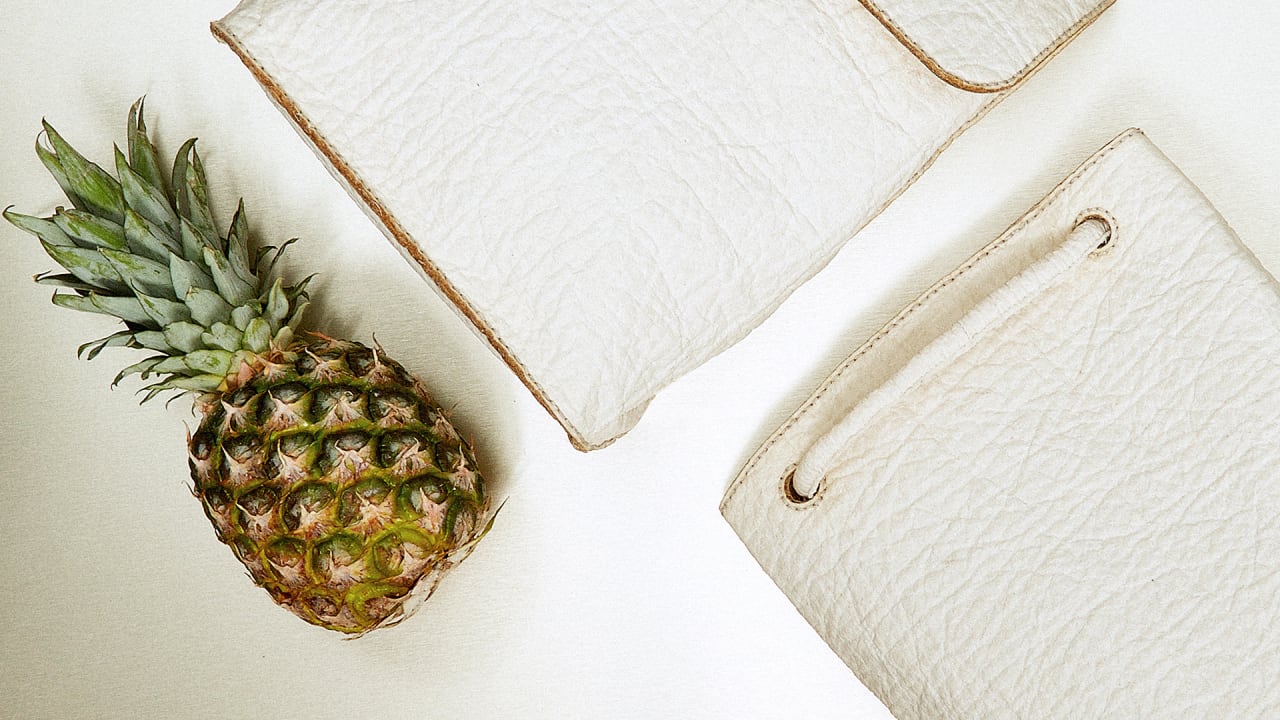 Piñatex is an innovative faux-leather made from pineapple leaf fibre. As pineapple leaves are normally discarded after pineapple harvesting, Piñatex requires no additional raw environmental resources to produce. It does, however, require a polyurethane coating during production, but this shouldn't take away from the fact that Piñatex is chiefly made from waste harvesting matter.
Pros:
Made from waste organic matter from pineapple harvesting, reducing consumption
Unique texture
Becoming more accessible, used by brands such as Pumaand Hugo Boss
Can be made up in any color
Cons:
Currently requires a polyurethane treatment
Yet to be tested for true longevity
Cannot be produced with a completely smooth texture
Muskin
A 100% vegetable-based leather alternative, MuSkin is made from a fungus called Phellinus ellipsoideus. Once harvested, the caps of the mushrooms are processed and treated with natural substances like eco-friendly wax. This completely natural process results in a highly textured material that boasts an interesting grain similar to some animal leathers. MuSkin is also a thermal insulator that absorbs damp and releases it immediately, thus limiting bacterial proliferation.
Pros: 
100% natural
Sustainable, biodegradable, and eco-friendly
Unique, irregular texture that resembles animal leather
Breathable
Cons: 
Not widely produced
Yet to be tested for true longevity
Limited colors
BANANA
Yes, banana leather. Bananas do not grow on trees but the world's largest perennial herb, known as the banana plant.
Unlike fruit trees, which continue fruiting every season, the banana plant provides only one crop of bananas.
More plants can send out suckers from the underground stem, but the actual stem that produced bananas will never fruit again.
So what to do with these past-their-prime plants? Why, make banana leather, of course! Banana leather manages to be biodegradable, water-resistant, and durable all at once.
COFFEE
Say what? Yes. You can now wear shoes made from coffee.
A German company,  has developed a vegan leather made from recycled coffee, beans, and coffee plants.
The coffee product makes up about 50 percent of the materials in the finished shoe, which also uses recycled plastic, natural rubber, and cork. The finished product does smell like coffee, but we think that's a good thing.
9. GRAPE
Yes, there are still more varieties of vegan leather made of fruit. Also known as wine leather, Vegea, an Italian company, produces grape leather.
Vegea sources winemaking leftovers, specifically grape skins, stalks, and seeds to make its products.
The company does not allow the use of toxic chemicals or heavy metals in its production. Bentley used Vegea's vegan leather in the interior of its 2019 electric concept car.
10. RED PEPPER
Called the "Berlin Curry" sneaker, nat-2 has used red pepper applied to an eco-flax layer to create the vegan leather used to make up to 50 percent of this shoe.
The remaining materials are cork, glass (for the company's local), and recycled plastic.
11. COCONUT WATER
OK, now I'm just pulling your leg. Am I, though? It turns out that, yes, you can make vegan leather from coconut water!
Malai Design and Materials makes a vegan leather out of bacterial cellulose from coconut water. The water they use is a by-product that they then discard.
This vegan leather has a papery appearance, not unlike snakeskin.
12. STONE
Two German brands put their heads together and created a sneaker made from leather derived from rock. And it's not something that Wilma or Betty would wear.
The companies Rosslyn and nat-2 (who you may remember from the coffee sneakers above) created a leather-like material out of slate stone.
The Stone has been made light, soft and flexible through a very complicated and state of the art technology."  nat-2 company spokesperson.
nat-2 also has a sneaker made of recycled Swarovski rhinestones. The company sources the rhinestones which do not make it to sale from Swarovski.
13. CORK
It's not just for your wine bottle anymore. Cork is one of the more popular sustainable vegan leather options on this list.
Cork is naturally water-resistant, which makes it a great candidate for fashioning into bags and shoes. Depending on the finish, cork products sometimes really do resemble a wine bottle stopper, and other times they look more like real leather.
14. ROSES
nat-2 is at it again with sneakers made from rose petals. The petals, which retain their fragrance, are layered onto a flax fabric before being applied to the shoe.
The company says the roses' source varies depending upon sustainable practices and availability at the time of manufacture. nat-2 uses ash, birch, maple, tulip tree, walnut, cherry, elm, and beech from ethically managed forests.
15. WOOD
nat-2 also offers a wooden sneaker made of up to 90 percent sustainable wood.
The wood is applied to organic cotton and vector engraved in a way that the material bends and becomes soft and flexible like a fine nappa leather. The feel is very smooth and fine, while you can smell the wood and see the tree's natural texture." nat-2 company spokesperson.
16. VEGAN LEATHERS OF THE FUTURE
Did you think that there couldn't possibly be any more sustainable vegan leather products out there?
Entrepreneurs see potential in the market and are developing more leathers made from unusual materials. To name just a few more:
green tea,
prickly pears,
kombucha tea,
soy,
and fruit waste are all materials currently under development for more varieties of sustainable vegan leather.
Reference:
U.K., J., & U.K., B. (2019, June 15). Vegan Leather: What is It, How is it Made, and Is it Sustainable? Retrieved August 10, 2020, from https://www.heddels.com/2019/06/vegan-leather-made-pros-cons/
Cudmore, D., Says:, A., Says:, D., Says:, C., Says:, E., Says:, E., & Says:, D. (2020, June 02). What is PU Leather, and Is PU Leather Vegan? Retrieved August 10, 2020, from https://vegfaqs.com/is-pu-leather-vegan/
Kiley, T. (2020, May 06). What is PU… Retrieved August 10, 2020, from https://www.btod.com/blog/what-is-pu-leather/
https://walterychina.com/everything-you-need-to-know-about-vegan-fashion/