Mega Yatak, who has been producing bedding and home textile products since 2005 in order to offer comfortable and healthy sleep, has managed to become one of the most important players in the market. The company has been using Durak Tekstil threads in its products since the first day, for high-quality standards and customer satisfaction.
Mega Yatak A.Ş, starting its operations in İzmir in 2005 with the production of mattress springs, expanded its product and service portfolio with strategic investments in a short time and achieved impressive growth figures in the market. The company set out with the claim of creating a 'lasting brand for generations', today, mainly produces mattresses, bed bases, headboards and nightstands, foldable beds (additional bed), roll-pack (roll-shaped) mattress, home textile products, pillows, quilts, duvet cover sets, undersheets and bedsheets in its 12 thousand square meters indoor facility. The company gained recognition in the retail segment with its My viscoo mattress brand, addressing the entire Turkish market with 12 chain stores and 150 dealerships.
Mega Yatak exports 35% of its total production and its prominent markets include Greece, Belgium, Germany, France, Romania, the Netherlands, Morocco, Israel, and the USA. The company aims to strengthen its structuring in foreign markets with sales and after-sales service and continues to operate on the axis of "quality" in this process. Keeping its quality standards high, Mega Yatak has preferred Durak Tekstil's sewing, embroidery and quilting threads in its products since the first day for customer satisfaction.
Ali Erkoca; "We do not compromise on quality although the products differ"
Mega Yatak CEO Ali Erkoca stated that consumer demands in the mattress industry are changing rapidly and that they have the capacity to respond. Erkoca said; "Demands for bedding products vary even on the basis of regions in Turkey due to geographical and cultural characteristics. We can quickly respond to the changing demands of our customers and the market with our strong production infrastructure and intensive R&D studies. Bedding products are very personal items. Trends, tastes, and preferences lead to an increase in the product variety here. Our products are based on healthy and comfortable sleep, and even if the tactile and physical properties, as well as fabric, color, pattern, and other visual designs change, the only thing that does not change is high quality and durability. We never compromise on providing the best sleep products and service to our customers". Erkoca emphasized that they seek high-quality standards in the production process in the materials they use and noted that they have been working with Durak Tekstil since the first day within the framework of this quality. Erkoca explained this process as follows; "We have been working with Durak Tekstil since the first day we entered the sector with the purchase and sale of upholstery materials and springs. In other words, Durak Tekstil was our partner even when we were not actively producing. However, Durak Tekstil threads became our only choice and we started using them directly in our products when we started production later on. We have been continuing this cooperation for a long time as we are very satisfied with the threads that comply with our application variety and standards in addition to the service they provide".
Erkoca said that thread supplies from Durak Tekstil have increased proportionally and numerically due to the expansion in production capacities and explained that they used 2.7 tons and 35 thousand dollars worth of Durak Tekstil thread in 2021. Erkoca stated that thread supplies increased by 10-20% annually depending on the business volume.
Durak Tekstil threads offer superior performance in different fabric types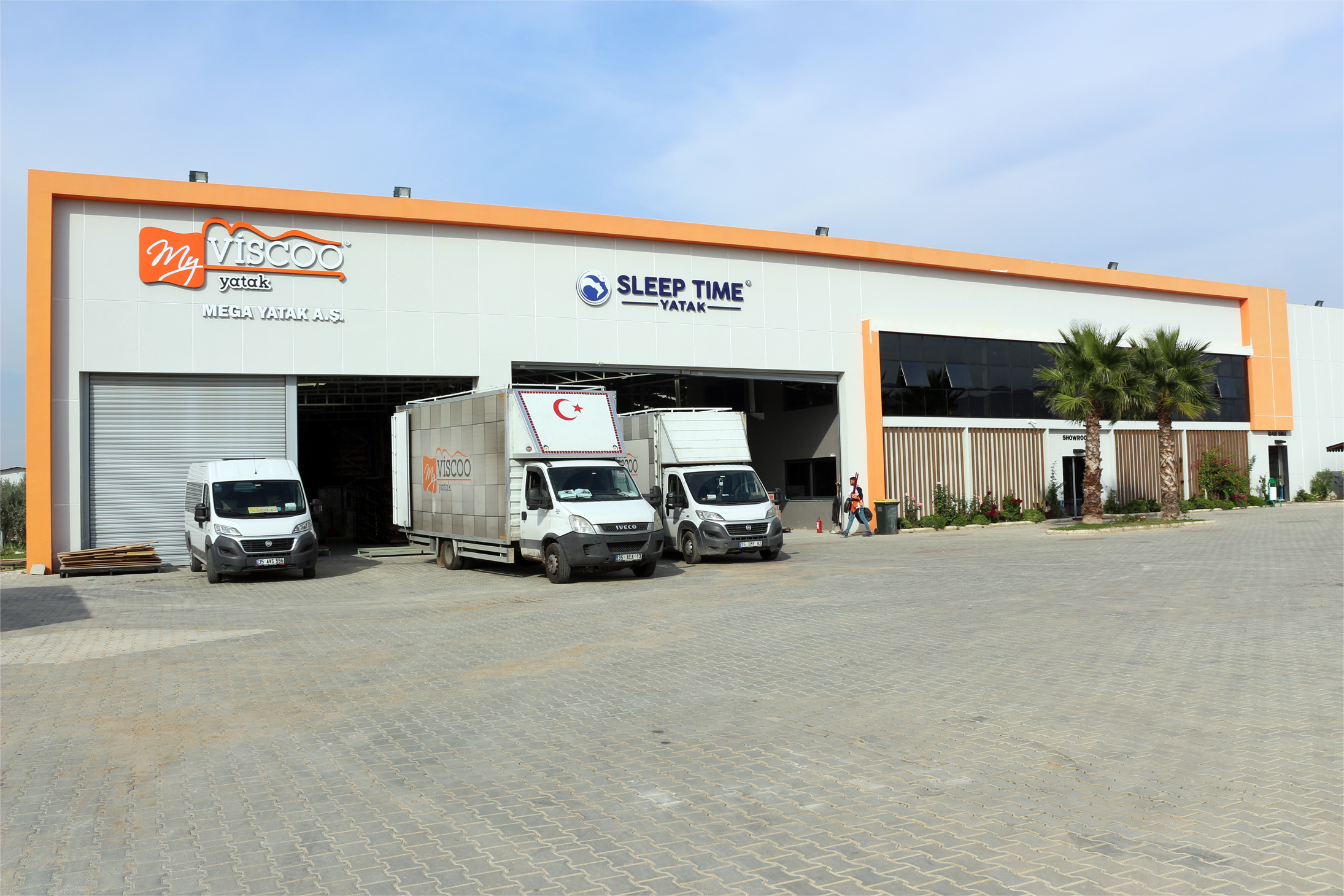 All Erkoca relayed that they buy sewing, quilting, and embroidery threads from Durak Tekstil and that they only use Durak Tekstil products in their products. He shared the following details; "We use Durafix 70, Duratex 90 and Durabobbins 70/2 threads in mattress quilting, Polystrong 30-50 thread in mattress tape-edge seams, Polysoft 30 and Duraless 190/1 threads in embroidery and embroidery quilting applications. In other words, we use Durak Tekstil thread for all textile applications that reveal a final product". Erkoca stated that these solutions show superior performance in different fabric types and said; "For example, the most common problem with multi-needle quilting machines is skip stitches. At this point, lower and upper bobbins synchronization is important in solving the problem. This problem is almost never encountered with Durak Tekstil threads".
Erkoca, mentioning that Durak Tekstil presents the necessary certificates and quality documents for threads, added that they also conducted tests for tear strength, flexibility and sewing performance, and they obtained successful results. Erkoca expressed that they do not prefer to work with cheaper but unreliable threads in the market and emphasized that they cannot risk their brand values by saying; "In a way, threads are like the make-up of the bed. It not only does the sewing and embroidery but also adds an aesthetic feature to the bed. we trust Durak Tekstil's high-quality thread varieties to not risk our customer satisfaction, and I can say that these threads exceed more than their costs".
Durak Tekstil is a reliable partner with its threads and service
Ali Erkoca disclosed that Mega Yatak is like a machine that works continuously, so they do not tolerate any unexpected stoppage in the production line and stated that short deadlines in material supply are important for them. Erkoca said; "The main advantage of purchasing threads from a domestic company is that it provides a quick response to our demands. Bursa-based Durak Tekstil supplies us the threads we demand in a very short time. Thus, we do not need to keep a large amount of stock. If we were to buy our threads by import, our order time would be longer and we would have to work with a higher amount of stock. We see the positive results of this in our production and operating costs. In addition, we have good relations with Durak Tekstil based on mutual trust, both on a personal and corporate basis. I can say that they provide us with the necessary support as a partner".
Mega Yatak will increase its export rate
Ali Erkoca, stating that they aim to grow especially in export markets in the coming period, announced that strategic growth steps will continue in both production and sales legs. Erkoca finished his words as follows; "We will increase the share of exports in our total sales from 35% to 50-60% in short term. We are strengthening our sales channels abroad. We aim to reach our consumers more with our stronger sales channels and attractive campaigns as a preferred brand in bedding products. We will continue to work with Durak Tekstil and use Durak Tekstil threads in the coming period in order to provide our customers with the performance they expect, with our high quality and long-lasting products. Because we know that this cooperation means more customer satisfaction".