INTRODUCTION
By re-thinking how excess and unwanted materials can be used, scientists, researchers, and inventors are constantly finding ways to reduce our everyday waste output in the anthropocene era.
Looking no further than our oceans, making use of an untapped resource, seaweed. Directly from the sea, the natural algae, appears like a green slimy plant that floats in water.
Harnessing living bacteria algae, which can fit clothing moulds, seems like a natural 3D print. It can grow almost anywhere, clean up the waste stream of other industries such as purifying water.
Kelp, a type of seaweed or macroalgae, is one of the fastest growing, most rapidly replenishing organisms on earth. Grows globally in cold coastal waters mostly in the northern hemisphere. Does not require arable land, fresh water, irrigation and also doesn't rely on harmful fertilizers and pesticides. On the contrary, it sequesters CO2 while filtering surrounding water.
Economic and ecological ecosystems impacted by overfishing and degradation are rebuilt by cultivating kelp, creating a new source of revenue and restoring aquatic environments.
Sixteenth-century Indian calico painters painted with seaweed. Seventeenth-century Japanese textile manufacturers sized with seaweed. Eighteenth-century Anglo-Irish designer William Kilburn printed calico with his drawings of seaweed.
Chinese medicine has used seaweed since ancient times for its anti-inflammatory qualities to protect the skin. Indian calico painters of the sixteenth century worked with seaweed. Japanese textile producers in seventeenth-century used it in their sizing process. Anglo-Irish artist William Kilburn printed calico with his drawings of seaweed in the eighteenth century.
Seaweed can be grown into environment-friendly zero-waste sustainable textiles rather than just being an edible item.
SEACELL
German company Smartfiber AG developed SeaCell, a fiber made from renewable resources – wood (cellulose) and seaweed.
The brown algae Ascophyllum nodossum (Knotted Wrack) is gathered from Icelandic Fjords, and the manufacturing process uses methods that save energy and resources. The resultant fibre is carbon neutral and biodegradable.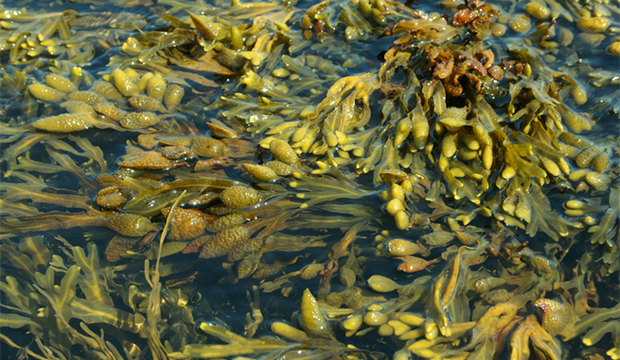 SeaCell is constructed using the Lyocell manufacturing process, which is considered to have minimal effects on the environment. The traditional Lyocell process developed in 1972, used dry jet-wet spinning to create a unique fibre. Nanonic Inc brought the method into the 21st Century and ensures seaweed's rich nutrients are preserved.
Cellulose is directly dissolved in a solvent containing water by a solvent-spinning process. The solution is filtered after the washing and retting process, and spun via spinnerets to yield filaments.
PROCESS AND PRODUCTION
Harvesting of the seaweed is a gentle, selective and sustainable process. It removes only the part of the seaweed that is able to regenerate. The seaweed is entirely untreated and all its ecological value is retained. Produced by embedding dried, crushed seaweed within a natural cellulose fiber using nanotechnology.
Seaweed fiber is water-soluble and serves as the holding fiber.  usually combined with cellulose from eucalyptus tree during the lyocell production process.  The eucalyptus serves as the 'functioning substrate' for the seaweed. When the cloth is finished, the alginate is dissolved. No chemicals are released as waste, as this is a closed loop process.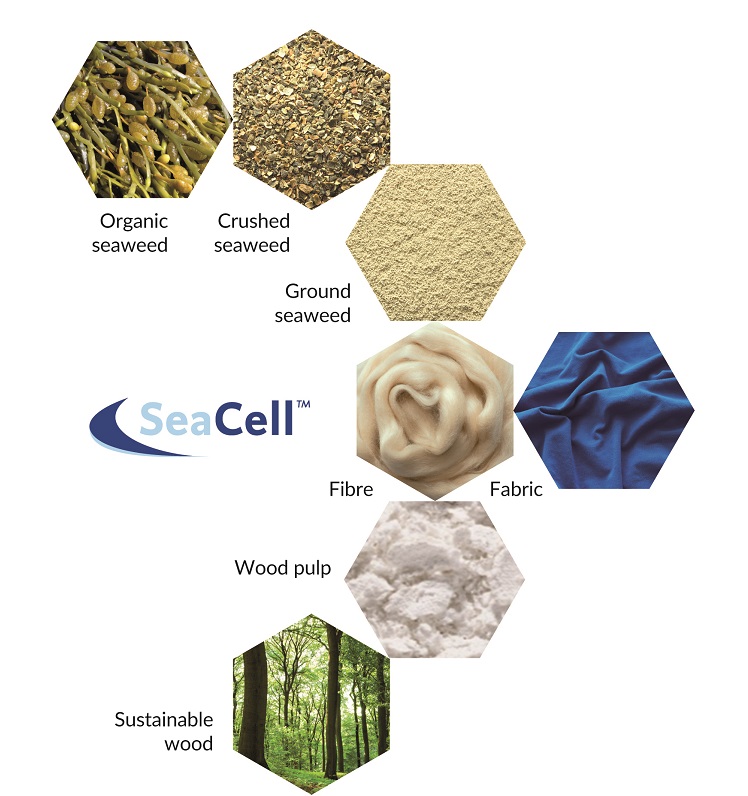 From a marine plant fibre, a cellulosic regenerated fibre is produced using lyocell process. Soft, silk-like fibres are created by blending seaweed in the lyocell spinning solution, it breaks down hardwood into chips that are then fed into a digester that softens them into a pulp.
The most diverse types of cellulose are dissolved as they are optimally adjusted to the Zimmer AG's Lyocell process (system: cellulose-water-N-methylmorpholine oxide) by the implementation of various methods of pre-treatment.
Conventional antimicrobial fibres are either surface finished with antimicrobial active chemicals, organic substances with antimicrobial effects are incorporated. But Seacell has antimicrobial features – the antibacterial effect is achieved through the incorporation and activation of the metal ions into the seaweed.
PROPERTIES
The fibre is rich in vitamins, trace elements, amino acids and minerals. It includes nutrients such as calcium, magnesium, iron and vitamin E. The natural moisture level of the skin and fibre structure enables an active exchange of the beneficial substances between the fibre and the skin.
It protects the skin against the harmful environmental influences. Its high antioxidant level defends the skin from damage from free radicals that are harmful to our skin cells. Fabrics containing only 24% of SeaCell fibre are able to trap 91% of free radicals to which they are exposed to.
Anti-inflammatory properties are observed – it reduces inflammation and soothes itchiness. Cell regeneration is activated and also eases skin diseases.
The fabric is soft and Breathable with a smooth, silky feel to it. It can withstand multiple wash cycles, as seaweed are permanently preserved within the fibre structure. The seaweed fibre can combine with other fibres.
APPLICATIONS
A range of applications are realized, causal clothing, activewear, underwear, loungewear and even home textiles like bedding and towels. The antimicrobial agent present has extra value in hygiene products.
Truly's slogan t-shirts are made with blend of sustainable cotton and SeaCell. It displays ocean-themed phrases like "Happy as a Clam," "Whale, Hello There" and "Shell Yeah!".
A revolutionary diaper 'Sumo' was made entirely of SeaCell, consisting of seaweed and eucalyptus, designed by Luisa Kahlfeldt. SeaCell was engineered by Kahlfeldt into three layers: a soft and absorbent inner layer, another more absorbent core, and then a waterproof outer layer that avoids liquid leakage.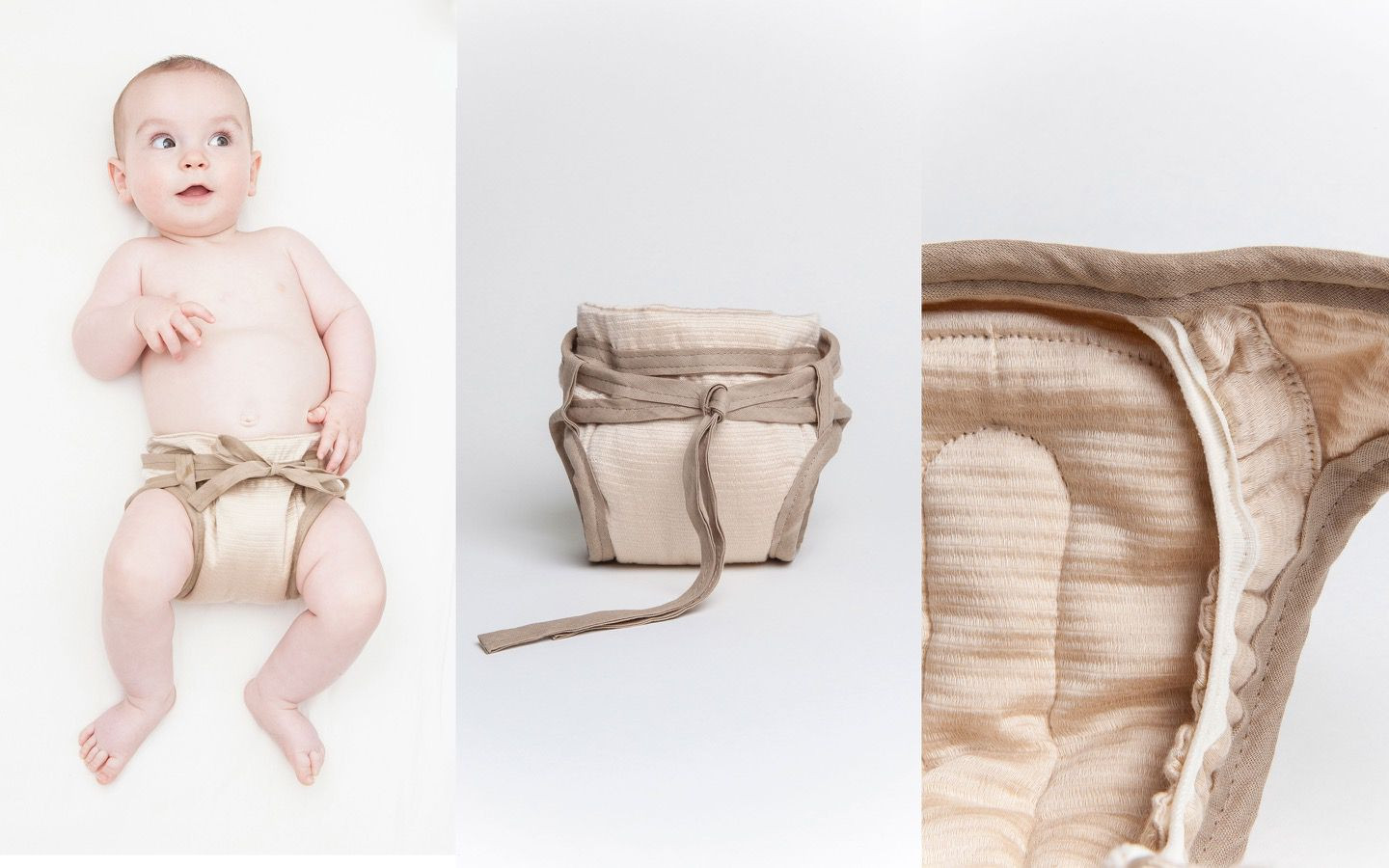 Collaboration with Swiss textile group Schoeller, whose waterproofed fabrics have EcoRepel technology, enabled waterproofing without compromising biodegradability or recyclability.
SEAWEED IN THE FASHION INDUSTRY
Textile artist Jasmine Linington hand-harvested seaweed from Scotland's south-east coast to create a couture collection. she looked to the ocean as a resource for fibres, dyes and embellishments.
By-products of the seaweed harvesting process were incorporated in an eco-resin to create coloured bead-like embellishments such as pearls and sequins in earthy shades of purple and sea green.
Seaweed and microalgae make up about 90% of plant life on the planet, a highly sustainable and fastest growing organism helped create a zero-waste product displaying the versatility of ocean.
Bioesters, a research group based in New York, used biopolymers made from kelp to make sustainable fabrics.  Product designer Aaron Nesser had the idea that clothes can be part of a life cycle, rather than the end of it. Living, breathing and growing.
AlgiKnit grew out of BioEsters, founded by Tessa Callaghan, Aaron Nesser, Aleksandra Gosiewski, Theanne Schiros and Asta Skocir, who developed an algae-based yarn fibre.
Alginate is obtained from brown seaweeds/kelp and blend for yarn processing with other renewable biopolymers. The method of extrusion transforms the biopolymer mixture into a filament, then into a salt bath that cures the bio yarn which can be knitted.
A strong and stretchable sustainable yarn is acquired that can be hand knitted or machine supplied to be used in apparel textile manufacturing. Natural pigment dyes can be applied on the finished piece. All products are knit to shape which has little to no waste.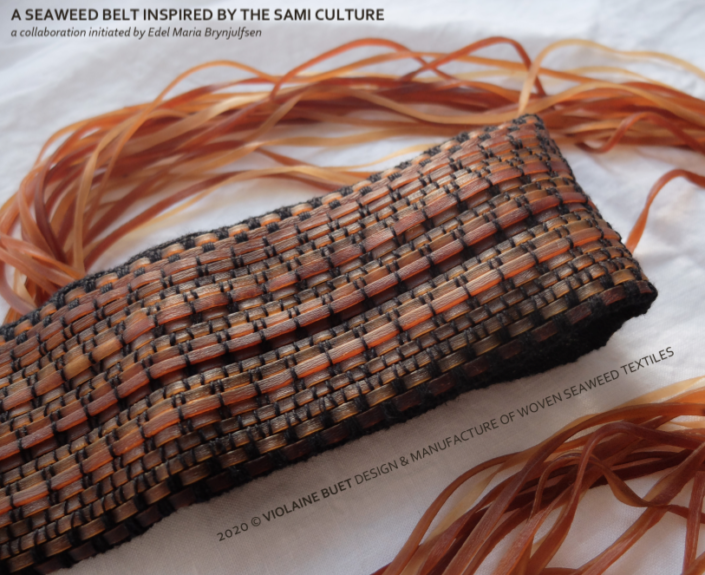 Violaine Buet explores seaweed with a designer-craftsman approach. She uses weaving, colouring, printing, embroidery, emboss, engraving, sewing, pressing, braiding techniques on seaweed to create custom pieces with the biodegradable algae. Multidisciplinary approach of using tools of different fields.
REFERENCES
Author Profile