Union Minister of State for Textiles and Railways, Smt Darshana Vikram Jardosh today attended one-year celebrations of the Bodoland Territorial Region Council ( BTR) at Kokrajhar. Smt Jardosh in her address said that  Bodoland is a beautiful region, rich with natural resources and a strong and intellectual social tradition, apart from being one of the most peaceful borders of the Indian Sub-Continent.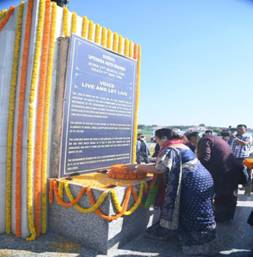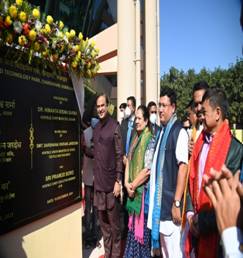 The Chief Minister of Assam Dr. Himanta Biswa Sarma also graced the occasion. Smt. Jarosh paid floral tribute to the statue of Bodofa Upendra Nath Brahma during her visit to Kokrajhar. Smt Jardosh was also present at the inauguration ceremony of the Information Technology Park at Kokrajhar in BTR.
Speaking on the occasion, Chief Minister Dr. Sarma said that the new government in BTR has completed a glorious one year- the year which was full of challenges. However, notwithstanding the challenges, the government with its commitment has gained a new momentum towards progress, he said.
Referring to the historic Bodo Peace Accord signed in presence of Prime Minister Narendra Modi and Home Minister Amit Shah, Dr. Sarma said that the Accord ushered in a new era of peace in the BTR.
The Chief Minister along with Union Minister of State  Smt Jardosh inaugurated Bodoland Textile Mission and Bodoland Silk Mission.
An MoU was also signed between the Central Silk Board and the Assam Forest and Environment Department. This MoU will support forest-based families in frontier forest areas of ​​Assam who earn their living by rearing silkworms. It will also provide proper assistance in providing new livelihood opportunities to them. Mr. Rajat Ranjan Okhandiyar, Member Secretary, and Forest Head of the Assam Forest and Environment Department, Mrs. Alka Bhagav presented the MoU.
Minister of Health and Family Welfare Keshab Mahanta, BTC Chief Promod Bodo also spoke on the occasion. Minister for Housing and Urban Affairs Ashok Singhal, Minister for WPT&BC U.G. Brahma, Deputy Chief BTC Gobinda Basumatary, and a host of other dignitaries were present on the occasion