There are typically two types of clothing worn in Japan: traditional clothing known as Japanese clothing , including the national dress of Japan, the kimono, and Western clothing , which encompasses all else not recognized as either national dress or the dress of another country.Modern Japanese fashion mostly encompasses yōfuku (Western clothes), though many well-known Japanese fashion designers – such as Issey Miyake, Yohji Yamamoyo and Rei Kawakubo- have taken inspiration from and at times designed clothes taking influence from traditional fashion. Their works represent a combined impact on the global fashion industry, with many pieces displayed at fashion shows all over the world, as well as having had an impact within the Japanese fashion industry itself, with many designers either drawing from or contributing to Japanese street fashion.
The history of Japan has the reputation of being one of the world's fashion epicenters, for so many reasons. Japanese fashion became very popular thanks to its unique heritage and amazing culture.
There have been a great influence of western on Japanese Fashion.Japanese fashion has a centuries-long history of being both, influenced and influence. At the end of the isolation (sakoku) period and the beginning of the Meiji Era (1868-1912), traditional Japanese attire has entered a period of cultural absorption. Western culture caught Japan's curiosity, and its influence started to become evident.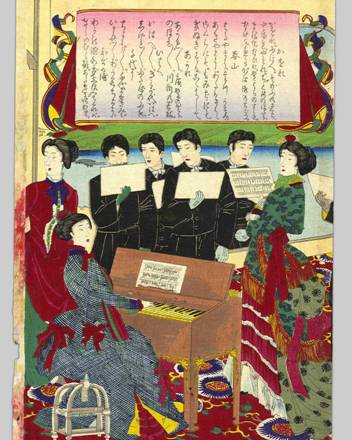 The United States, in particular, has exerted a strong influence on Japanese fashion. The constant media exposure to American fashion designers and their styles has influenced, initially, the Japanese buyers. However, seeing demand shifting, local designers started
to follow and infuse their creations with the latest western trends. By the beginning of the Shōwa period (1926-1989), men's fashion styles had become largely 'westernized'.
Moreover, the influence of Western clothing styles has started to influence women fashion styles as well. As expected, Western culture had a profound impact on Japanese culture. Initially, people wore Western styles at work only. However, shortly after people started wearing Western fashion styles at home as well.
Tradition and modernity
After World War II, Japan began paving its own way towards the country's 'Renaissance'. The movement covered art, architecture, fashion, and even technology with the aims of preserving and nurturing the country's historical roots.Also, adapt to contemporary trends and reach a unique blend of oriental and contemporary culture.
It was out of this very philosophy that Japan managed to re-established itself as a modern creative powerhouse. The movement was so successful that Japanese fashion designers began a systematic 'take-over' the world of fashion.
From 'Japonism' to Japanese fashion
As an influencer, Japan's uniqueness has touched the French culture the most. The influence was so strong, that French artists have invented a word to describe it: 'Japonism'. 'Japonism' signifies a wide range of Japanese aesthetics, innovative techniques, themes and nature-based motifs, nowadays used by western designers.
Now, as we approach contemporary fashion times, we see how important was Japan's role of influencers and influenced in the grand scheme of fashion. Overall, Japanese fashion has changed the way we understand fashion and dress. Since the early 50s, Japanese fashion designers have consistently impacted Western fashion, with their vision, craft, and creativity. In the 60s, the legendary Rei Kawakubo, founder of Comme des Garons, revolutionized women's fashion with her avant-garde masculine approach.
As we approach modern times, Japan's contribution to the world of fashion becomes increasingly evident. A new era of celebrity-designers emerges, such as Tadashi Shoji and his 'red carpet' crepe gowns.
Another modern contributor, to Japan's role as a global fashion influencer, is Issey Miyake. Miyake is one of the most famous Japanese fashion designers, recognised and loved for his mesmerising pleats. And last but not least, the master tailor Yohji Yamamoto, known for his avant-garde tailoring and partnership with Adidas.
Iconic Japanese Fashion Trends
Nevertheless, it is important to understand what are the sources of inspiration for these popular fashion designers hailing from Japan. When interviewed about iconic couture that influences their styles and perception of fashion, most designers referred to:
•     The Kimono
•     Japanese Street Fashion
Kimono (きもの/着物)
The kimono is the most famous, worldwide-recognized, traditional piece of clothing coming from Japan. The word 'kimono' can be roughly translated to "an object that is worn." At the same time, the word sums up the basic functions of any piece of clothing. The kimono also incorporates the concept of garment simplicity.
The idea behind the kimono is to create a simple and functional piece of couture, from one piece of fabric. The final form always depends on the chosen material. Finally, the garment is augmented with decorative patterns.
Wabi sabi (侘寂)
Wabi sabi is an aesthetic principle, centered around the idea of transience and imperfection as vital components of beauty. The concept and its resulting design techniques have been adopted and used by some of the most popular Japanese fashion designers to date. Some of the most recognizable figures employing Wabi sabi are Yohji Yamamoto, Rei Kawakubo, and Issei Miyake.
London, New York, and Parisian fashion scenes of the late 70s were rocked by their Wabi sabi inspired creations and styles.
With uneven, gender-free, and androgynous designs, these avant-garde fashion designers helped Japanese fashion gain global recognition and international success.
Japanese Street Fashion
The third important source of inspiration for Japanese creators is the Japanese street fashion culture.
While distinct and extreme Japanese fashion subcultures are still thriving, the streets of Tokyo are brimming with 'slightly more accessible' fashion trends. The photographer Shoichi Aoki chronicled most of these unique trends in FRUiTS, a 'bible' for street-fashion enthusiasts. "When it comes to fashion, Tokyo has this kind of unique flow of energy, with Harajuku as the source of this flow", he explained.
We'll cover Harajaku a bit later, right now, it is important to know that even big fashion retailers are impacted by Japanese street fashion trends.
On contrary to Western fashion trends, constructed by celebs and Instaparasited by fast fashion giants, in Japan retailers rely heavily on the street culture:
"Here, in Japan, the most popular fashion models are just normal shoppers. They are normal people wearing their unique styles on the streets of Tokyo", said Parco's president Kozo Makiyama. Parco is one of the first chains of department stores in Japan to realise the power of Japanese streetwear fashion.
The influence is so palpable that when it opened its store in Shibuya, Parco used a very relevant slogan: "The people you're passing are all so beautiful." In other words, the streets of Japan are the real catwalks and people are the fashion stars.
Contemporary Japanese Fashion
As a reinforcement on how Western culture impacts Japanese fashion, Vogue Japan chose Kendall Jenner for its July cover. It is once again, a confirming indicator of how the West merges with East, an American model wearing Japanese summer trends.
Having "Positive Energy" as the central topic, the magazine focuses on beauty and tips for a healthy body, mind, and soul. The editorial showcases a minimal and monochromatic selection of photographs and styles… blending vintage-looking stripes with summer-appropriate outfits of functional character, selected for outdoor activities. Inspired by the samurai styles, the waistline is a definite highlight.
The editorial concludes with Japanese styles below crop tops, belted high-waisted jeans, skirts, jumpsuits, and dresses, made from rescued materials, deadstock, and eco-friendly textiles.
Sustainable Japanese Fashion
And this takes us to the importance of sustainability in Japanese fashion. Fashion is a 2.4 trillion dollar industry that 60 million people worldwide. However, fashion is an industry that creates mountains of waste and up to 10 per cent of the world's carbon output comes from the same industry. Right now, there are over 21 billion tons of textile waste discarded in the landfills, each year.
In Japan, there's an ancient term repeated by grandma's for generations: "Mottainai", which means "too good to waste". While its origins lie on Buddhist traditions, the Mottainai philosophy relates to many aspects of Japanese culture: it carries the message that every object has an inherent value and that should be taken care of until the end of its lifespam. It resonates with the culture of respect and care that is cherished by Japanese tradition, but it also answers to the demands of our modern society for a more sustainable economy.
Then, 20 per cent of the world's water is used to create apparel. These figures motivate Japanese, as a nation, to find better alternatives, especially now when the industry is at a crossroads.
As such, emerging Japanese designers are increasingly taking centre stage with next-generation hand-made couture from upcycled apparel and recycled textiles.
A tremendous example of sustainable fashion comes from SHOHEI, a unique brand that offers high-end sustainable couture.
Shohei's unique ethos reflects Japan's existential core values of freedom, simplicity and creativity.
Sustainability Through Innovation
As a nation of innovators and trailblazers, the Japanese understand that the path to sustainability is through innovation.
A 2019 McKinsey study revealed that 57 per cent of millennial and Gen Z consumers are willing to pay more for custom made products that have a minimal impact on the environment.
As such, Japanese designers with a focus on customisation and sustainability are the rage right now.
These emerging Japanese designers are paying attention to two key factors: Customised couture aiming to decrease return costs and textile waste resulting from standard-sized samples. Use sustainable materials – innovative, eco-friendly, cruelty-free materials that nurture and protect the environment. Once again, Japan's new age of design and technology experts are ahead, by blending culture and beauty with innovation and utility.
The future of Japanese fashion is in the right hands!
References
https://en.wikipedia.org/wiki/Japanese_street_fashion
https://en.wikipedia.org/wiki/Japanese_clothing
https://www.fibre2fashion.com/industry-article/8744/japanese-fashion-history-trends-innovation-and-sustainability.