Automotive interior leather is designed to provide comfort and to improve the visual appeal of the interior of the vehicle. It also leaves the vehicle with a remarkable appearance and feel. It is used widely for automotive interiors across the globe, especially in midrange and premium passenger vehicles. Growing spending capacity and rapid developments in automobile manufacturing, are pushing the market towards growth. The interior of a vehicle that adds to the aesthetic appeal of a vehicle, is also a major factor that influences consumer buying decision.
Low cost, longer operational life and extended warranties are some factors helping the market growth while high initial investment and improper disposal of effluents, act as barriers for the interior leather insulated market.
The global automotive interior leather market was valued at around USD 26,000 million in 2015 and is expected to cross USD 32,000 Million by 2023 at CAGR of 5.1 %.
Rising automotive manufacturing activities, especially in emerging economies of Asia Pacific such as China, and India, is one of the key trends escalating market growth. Moreover, surging demand for artificial/synthetic leather in cheaper motor vehicle variants is poised to provide an upthrust to the market during the forecast period. Asia Pacific is observing a boom in manufacturing in the automotive industry. China and India are the sights of high growth rates in the region. Strong GDP growth rate, rising disposable income of the populace, and government support are revving up the production of motor vehicles in these countries. Moreover, their demand in lower-tier cities is likely to augment with declining prices.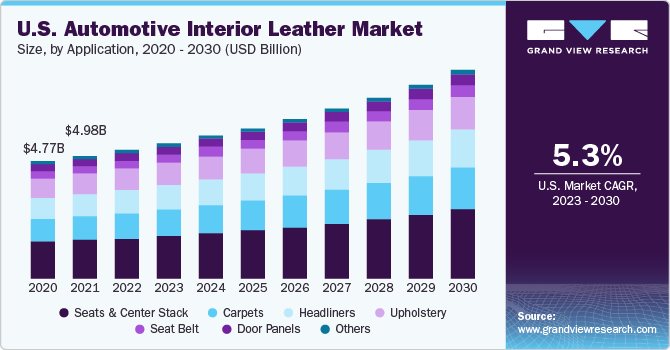 SAIC Motor, Dongfeng, FAW, and Chang'an Automobile Group are major domestic auto manufacturers of China. Other manufacturers include Beijing Automotive Group, Brilliance Automotive, BYD, Chery, Greely, Jianghuai (JAC), Great Wall, and Guangzhou Automobile Group.
Widening base of middle-class population and cheaper availability of labour and other resources are supplementing the growth of the motor vehicle manufacturing industry in Asia Pacific. The region is also witnessing investments from key players such as Bayerische Motoren Werke AG, Fiat S.p.A, Ford Motor Company, MazdaMotor Corporation, Nissan Motor Co., Ltd., and Jaguar.
There has been a considerable shift towards synthetic/artificial variants, which are considered a cheaper alternative of genuine leather. Their cost of production is less than that of natural leather and also has an easier manufacturing process. Growing prominence of artificial leather is leading to an increase in investments in the sector, which will subsequently help improve overall product penetration.
Steps involved in the manufacturing of natural leather, especially tanning, lead to pollution of nearby surroundings. This is another major reason leading to the shift in preference toward synthetic leather. Stringent environmental laws and government regulations are playing a vital role in promoting demand for synthetic leather.
Genuine leather dominated the global automotive interior leather market in terms of value in 2017. It is a by-product of the meat industry and has high penetration, particularly in high-end vehicles despite the availability of cheaper artificial or faux variants. Rolls-Royce Motor Cars Limited, Land Rover, and Bayerische Motoren Werke AG are among the major end users of the product.
However, synthetic leather is rapidly gaining popularity on account of rising consumer disposable income, steady technological advancements, and better product performance as compared to other leather alternatives. Moreover, the rapid growth of the automotive industry is likely to open new avenues for synthetic leather manufacturers in the forthcoming years.
Passenger vehicles are anticipated to be the largest vehicle segment for automotive interior leather globally, with a revenue share of over 52.0% in 2017.Light commercial vehicles (LCV) are expected to emerge as the most promising segment during the forecast period.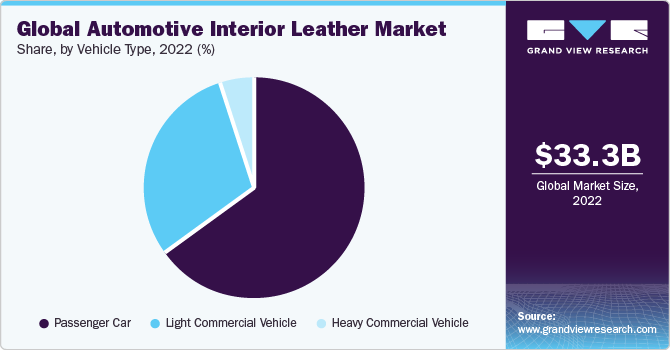 Growing use of passenger cars on account of protection from various environmental conditions such as dust and heat is estimated to encourage the production of passenger vehicles. China and India are major passenger vehicle manufacturing hubs in APAC. These countries are witnessing a continual spike in production of passenger vehicles. Besides production, the sale is also treading along a healthy growth track, thanks to rapid urbanization. Rise in demand for passenger vehicles is projected to trigger the growth of the overall market.
Favourable growth in commercial transportation services such as taxis is poised to supplement the growth of the LCV segment. Moreover, improved road infrastructure, rapid urbanization in emerging economies, and favourable regulations are stimulating the adoption of automotive interior leather in the segment.
On the basis of application, the market is segmented into upholstery, headliners, seat belts, carpet, and others. Upholstery is anticipated to dominate the market throughout the forecast period. Automotive upholstery includes utilization of skilled knowledge as well as skillset regarding usage of specialized materials and machinery. Reupholstering & recovering of seats and trims of a vehicle's interior are the major application pertaining to upholstery. Seats are the most commonly reupholstered part because they are exposed to the most damage and use.
Asia Pacific is expected to register the fastest growth over the forecast period owing to rising per capita income in emerging economies, expanding middle-class population base, and improving standards of living. Rapid development of motor vehicle manufacturing capacities is boosting the demand for automotive leather in the region. China, Indonesia, India, and Bangladesh are estimated to be the key revenue contributors in APAC.
Asia-Pacific is expected to remain the largest region due to continuously growing automotive sector, owing to the presence of manufacturers in the developing nations such as China and India. Increasing necessity of owning a car, and the improving living standard, are some of the factors that help in the market growth. Moreover, rapid economic growth and rising population are driving the demand for automotive interior materials in countries such as India.
In North America, the U.S. has been showing steady growth and is one of the dominant automotive interior materials markets in the world.
Automotive industry, which is a vital application segment, is witnessing rapid growth in the country. Abundant availability of resources, easy accessibility to the latest technologies, and rising penetration of premium automotive are some of the primary growth stimulants for the market in the country.
Key Players
The key players of global automotive interior leather market include Johnson Controls Inc (U.S.), Toyota Boshoku Corporation (Japan), Lear Corporation (U.S.), Toyoda Gosei Co., Ltd. (Japan), and Faurecia S.A. (France), Gst Autoleather, Inc.(U.S.), DK Leather Corporation Berhad (Malaysia), BASF SE (Germany), Alea Leather Specialist Inc / Sunguard Group (U.S.) and Grammer AG (Germany)
Reference:
Automotive Interior Leather Market Size & Share: Industry Report, 2025. (n.d.). Retrieved August 10, 2020, from https://www.grandviewresearch.com/industry-analysis/automotive-interior-leather-market
Automotive Interior Leather Market Size Outlook, Share, Trend, Growth And Forecast To 2023. (n.d.). Retrieved August 10, 2020, from https://www.marketresearchfuture.com/reports/automotive-interior-leather-market-3411